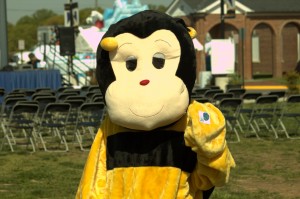 Early Bird Registration will open on December 1, 2018
Now in its 6th year SpringFest boasts an attendance of over 5,000 residents for this fun and educational  one day Environmental Festival.
Please Note: This year we are asking all exhibitors and non food vendors to have an activity or learning opportunity at their tent or booth to encourage ways to "Take Action for a Healthy Planet."  
Vendors with an environmentally sustainable products  will have preference and we reserve the right to deny vendors that do not meet an environmental message.   NOTE: Tented locations are not guaranteed unless vendors and exhibitors bring their own.
Please note that as this is an Earth Day event, we require consideration for the environment when planning your vended wares and give-aways, i.e. they should be environmentally sensitive and not something immediately disposable. Food vendors cannot use polystyrene (Styrofoam) containers and must encourage recycling. Single use plastic water bottles are also not allowed.
Please submit the application online and send a check or money order for your fees to:
Jennifer Cole, Clean Fairfax Council, 12000 Government Center Parkway, Suite 458 Fairfax, VA 22035. Checks may be made out to "Clean Fairfax"
or you may pay securely via credit card at Paypal (please uput all contact information in as well as filing out the form below) or by using the Clean Fairfax Square Store (scroll down to the SpringFest 2017 grouping)
Non-profit food vendors should contact Clean Fairfax directly regarding fees.
---
---
Vendor Fees:
Early Bird Vendor Fee: $150 December 1-January 15, 2018
Regular Fee $300.00* after January 15, 2017-February 28, 2017. Non-profit food vendors should contact Clean Fairfax directly regarding fees.
If you are a food vendor (non profit or otherwise), you must provide your own set up (tent, tables, chairs, generator, etc.) and be certified by the  Board of Health to sell food/beverage in Fairfax County!
If you have questions about whether you need Board of Health Certification, please contact the Board of Health directly: 703-246-2444 or visit: Fairfax County Health Department, Division of Food Safety.
*Note: if your set up is much larger than a typical food truck, or a 10×10 tented area, we reserve the right to revisit pricing.
SaveSaveSaveSave